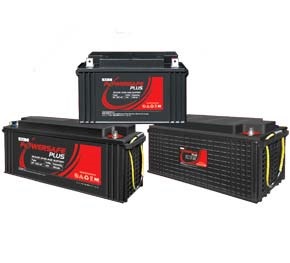 Importance of battery backup in India
Now days machine are working 24×7 for their vital role in manufacturing product or providing service. So in the process a battery backup provides power to a system when the primary source of power is unavailable. For this solution Costa Power Industries Pvt Ltd is leading battery suppliers in Mumbai from small cell to every range to retain clock time and date in computers, up to large battery room facilities that power uninterruptible power supply system for large data centers.
Battery Backup are used in uninterruptible power supplies (ups), and provide power to the computers or machines they supply for a variable period after a power failure, usually long enough to at least allow the computer to be shut down gracefully. Data center ups backup batteries may be wet cell lead acid batteries, with lithium ion cells available in some ratings.
Costa Power Industries Pvt. Ltd. is well-known for providing tubular battery, SMF battery, VRLA battery in Mumbai which are used in the outside plant at locations such as Controlled Environmental Vaults, Electronic Equipment Enclosures, and huts, VRLA battery is a new industry-approved set of VRLA requirements that provides a three-level compliance system. The compliance system provides a common framework for evaluating and qualifying various valve-regulated lead-acid battery etc.
By the expertise and experience having in the field we are giving proper solution even for critical industry like hospital. Power failure in a hospital would result in life-threatening conditions for patients. Patients undergoing surgery or on life support are reliant on a consistent power supply. Backup generators or batteries supply power to critical equipment until main power can be restored. So Costa power always believe in battery suppliers in Mumbai which would be take care of every critical situation regarding battery backup for ups in Mumbai or ups in India for server room, or process equipment's.
Even Power failure in a power station that produces electricity would result in a blackout situation that would cause irreparable damage to equipment. A bank of large station ups battery in Mumbai are used to power uninterruptible power supplies as well as directly power emergency oil pumps for up to 8 hours while normal power is being restored to the power station. Our team enhance the capacity to cater all these situation by taking help of principle company in the field.
For More details –
Visit – www.upsbatteriesindia.com
Enquiry – sales@upsbatteriesindia.com / sunil@upsbatteriesindia.com
Call – 9820710392 / 9372217661