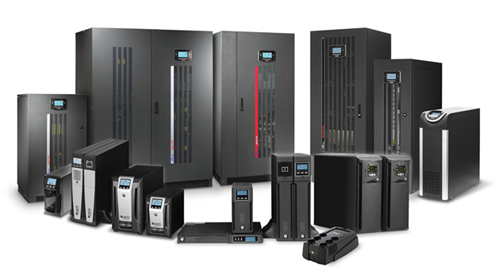 Costa Power Industries Pvt. Ltd. is Enterprise Business Partner for APC Smart UPS System formerly known as APC Network Power and we are their ups suppliers in Mumbai. APC Smart-UPS Online range provides high density, true double conversion online power protection for servers, voice & data networks, medical labs and light Industrial ups applications. The Smart-UPS Online models are ideally suitable for business critical systems that require long hour duration runtimes and work in a harsh environment. The Smart-UPS Online models are equipped with state of the art Power Chute management software to ensure additional safety for network operating systems during power shutdowns and voltage fluctuations.
These models are available in both Rack and Tower convertible forms and are capable of supporting loads of 1 – 20 KVA. The recent 15 & 20 KVA models are ideally capable of supporting power hungry blade servers and heavily loaded equipment racks. All models above 6KVA are equipped with an integrated Network Management Card to facilitate remote management. The APC by Schneider Electrics Smart-UPS Online family offer a range of safety features such as internal bypass, input power factor correction and much more to ensure your critical data and equipments are protected from crippling power outages and voltage fluctuations.
APC Smart-UPS Line Interactive award winning range of UPS are designed to handle mixed load applications in small and medium businesses and support servers, storage, networking and point of sale (POS) equipment. Smart-UPS Line Interactive models provide greater reliability and highly efficient clean network grade power at low, medium and high load levels that ideally suit modern multi-core or virtualized servers with varying load consumption patterns. Smart-UPS Line Interactive models are equipped with LED displays, extended range automatic voltage regulation (AVR) and pure sine wave output on battery. The Smart Slot Interface provision enables installation of optional accessory cards to facilitate easier management and functionality.
The Smart-UPS Line Interactive models are available in Tower, Rack Mount, Rack/Tower convertible form factors with the option to add external batteries to extend run times especially for converged voice and data networks. Rack mounted Smart-UPS are ideal for powering blade or density optimized servers in a distributed power protection environment as primary protection. The Smart-UPS SULI range is an economical entry level option for small and medium businesses that ideally provides protection for switches, networking devices and POS devices.
For More details –
Visit – www.upsbatteriesindia.com
Enquiry – sales@upsbatteriesindia.com
Call – 9820710392 / 9320710392