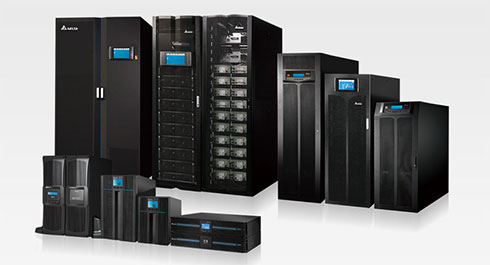 Costa Power Industries Pvt. Ltd. is Enterprise Business Partner for Delta Line-interactive UPS System formerly known as Delta power and we are their ups suppliers in Mumbai.
The Agilon VX line-interactive UPS designed with microprocessor control offers reliable and cost-effective power protection for PCs, laptops, POS, and other sensitive electronics used in home offices and small businesses. The integrated Automatic Voltage Regulation (AVR) ensures all electronics are receiving stable power while providing higher availability. The Agilon VX series' LED indicators, auto-shutdown software and other superior features make these units perfect for your data protection.
---
---
The Amplon RT series delivers double-conversion on-line technology, high power density and input power factor, and low current harmonics with its advanced architecture. Designed in a rack or tower configuration with an LCD display, Amplon RT offers advanced performance for servers, data centers, networking, VoIP and telecommunications.
The Amplon RT has 1+1 parallel redundancy function to provide higher reliability. Optional external battery pack can be added to fulfill longer backup time for mission critical applications.
Costa Power Industries Pvt. Ltd. is a having global exposure as Manufacturer, Suppliers, Distributor and dealers of ups system, uninterruptible power supplier, ups power supplier in mumbai, Delta ups supplier in mumbai, Delta ups dealers, Delta ups dealers in Mumbai. As headquarter is in economic capital of India, located in Mumbai and branches at PAN India. Costa Power Industries Pvt. Ltd. had started its operation in the field Since year successfully offering turnkey project services in the field of Electrical, Automation, Instrumentation, Energy Saving and Control with qualified & experience working team with solid technical background.
---
---
Leading AC-AC Efficiency
Fully redundant design and configuration
High input and output power factors
Easy expansion without additional hardware

Supports to seamless operations at low level of TCO
Modular design for quick and easy assembly
Easy integration with all data room structures
High efficiency
---
---
---
---

Technical Specifications
| Modal | Capacity | Height | Width | Depth | Weight |
| --- | --- | --- | --- | --- | --- |
| VX-600VA | 360W | 142 mm | 101 mm | 279 mm | 4.2 kg |
| VX-1000VA | 600W | 182 mm | 130 mm | 320 mm | 7.8 kg |

Technical Specifications
| Modal | Battery Voltage | Height | Width | Depth | Weight |
| --- | --- | --- | --- | --- | --- |
| E - 1K | 36 Vdc | 267 mm | 140 mm | 362 mm | 5 kg |
| E - 2K | 72 Vdc | 267 mm | 140 mm | 362 mm | 7 kg |
| E - 3K | 72 Vdc | 267 mm | 140 mm | 362 mm | 7 kg |

Standard Model - Technical Specifications
| Modal | Battery Voltage | Height | Width | Depth | Weight |
| --- | --- | --- | --- | --- | --- |
| INX-1K | 24 Vdc | 282 mm | 101 mm | 145 mm | 9 kg |
| INX-2K | 48 Vdc | 220 mm | 504 mm | 145 mm | 16.5 kg |
| INX-3K | 72 Vdc | 318 mm | 421 mm | 190 mm | 25 kg |
Long Backup Model - Technical Specifications
| Modal | Battery Voltage | Height | Width | Depth | Weight |
| --- | --- | --- | --- | --- | --- |
| INX-1K | 36 Vdc | 282 mm | 101 mm | 145 mm | 4.4 kg |
| INX-2K | 72 Vdc | 220 mm | 397 mm | 145 mm | 7.3 kg |
| INX-3K | 72 Vdc | 318 mm | 421 mm | 190 mm | 7.8 kg |

UPS Model - Technical Specifications
| Modal | Battery Voltage | Height | Width | Depth | Weight |
| --- | --- | --- | --- | --- | --- |
| RT-5K | 192 Vdc | 89 mm | 440 mm | 671 mm | 15 kg |
| RT-6K | 192 Vdc | 89 mm | 440 mm | 671 mm | 15.5 kg |
| RT-10K | 240 Vdc | 131 mm | 440 mm | 623 mm | 21.3 kg |
Battery Pack Model - Technical Specifications
| Modal | Battery Voltage | Height | Width | Depth | Weight |
| --- | --- | --- | --- | --- | --- |
| RT-5K | 192 Vdc | 89 mm | 440 mm | 638 mm | 36 kg |
| RT-6K | 192 Vdc | 89 mm | 440 mm | 638 mm | 36 kg |
| RT-10K | 240 Vdc | 131 mm | 440 mm | 595 mm | 66 kg |