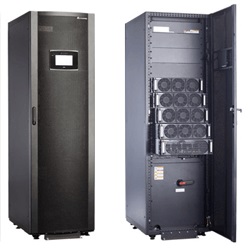 Costa Power Industries Pvt. Ltd. sells and performs services on all of the leading manufacturer's modular ups systems. Costa have ample of experience with modular ups battery backup for control applications and harsh environments. Continuity of process control is critical across a vast range of industrial markets : Waste Water, Biotech, Pharmaceutical, Transportation, Chemical, Food & Beverage, Semiconductor, Automotive & Renewable Energy. modular online UPS systems are designed for environments with prevalent fluctuations in electric power supply, power interruptions and cuts. Costa Power is market leader for modular ups suppliers, modular ups dealers for standard brand i.e. APC UPS, Vertiv UPS, Numeric UPS, Hitachi UPS, Microtek UPS & Delta UPS.
Costa Power is topmost in offering Modular UPS System to our customers. It is next generation product. It consists of 1 to 10 UPS modules of 10kVA each, a system controller, static switch module, and distribution block and others. It can be easily upgraded from 10kVA to 100kVA and is made for hot insertion as well. In this product, inverter is used for supplying power to load and it takes power by usage of AC input.
Other details:
Range :- 10 – 500 KVA Modular UPS
The rectifier is controlled to recharge the battery and maintain it in charged condition. The battery is galvanically connected between the rectifier output and the inverter input on a common DC link.
Features:
Unity Input PF and THDi of 5%, Truly Green Power.
Truly modular :- 1 to10 Hot Swap Plug-in modules of each 10KVA capacity allowing Upgrading UPS capacity from 10KVA to 500KVA.
True Online Battery according to IEC 62040-3.
High Overall efficiency of 96% and 98% during backup mode.
Lower heat dissipation of 333W per 10KVA single module.
Flexible to configure as 3/3, 3/1 & 1/1 Input/output configurations.
Built-in Redundancy of N 1.
Intelligent battery test facility.
Unique light and compact design.
Large LCD display of 4×40 Character with 256 event logging facility.
Independent charging system for every module.
For More details –
Visit – www.upsbatteriesindia.com
Enquiry – sales@upsbatteriesindia.com
Call – 9820710392 / 9320710392